Dear dear friends,
I do not feel ready to re-enter the 'blog world' as of right now, except to stop in your blogsites (when I can) and see what you've been up to~
I am always blessed to read your news and see your beautiful projects.
Right now my life is upset & complicated - and of course my heart is still so crushed after loosing my younger daughter in a car accident in October.
I am working on making changes in my life- and move (900 miles) to be close to my elder daughter; hopefully by this Summers time.
But I could not delay any longer - the blessing of being published; and I wanted to post this.
Early in 2015 I had entered a challenge for Somerset Life magazine ( one of over 20 magazines published by Stampington Publishers.) When I did not hear back from them, I chalked it up to a good experience and quite a courageous thing for me to try : )
Then October 1
st
happened, when my younger daughter was killed in an auto accident and my life was turned upside down, and inside out.
I will not linger there friends, it is waaay too hard. Please know God is seeing me through this (horrible tragedy) and I know He will keep me in His care. I am believing by His grace I have hope for better days. Many of you have been praying and I THANK YOU most 'profusely'.
Well,
When I returned home in late October (after the services and all the things that needed to be taken care of- she lived out of state ...) I found out that Stampington had lately published my Bookmarks in their Somerset Life Autumn 2016 magazine.
I must say that thru all my pain and grief, all my . . . deflation and emptiness, this brought a little
'spark of light' to my weary and mournful heart.
It was like a little - "Atta girl" from God (thru Stampington : )
Somerset Life Autumn 2016
A 'chink' of daylight through all the black leaves. And a bit of reassurance that perhaps someday again, I will feel like I can 'create.'
So here are some of the photo's that I had taken of the book marks; before I mailed them to Stampington.
PS: THEY (not me) did the lay outs and photo's that you see in the magazine (if you can still find one. They were only in stores thru the 31st of Dec.) I only sent them the actual physical book marks. Somerset Life did the rest. But these photo's are mine before mailing~
The top marker shows the simple back side of one.
It's really just a few folds.
Washi tape, cut-out paper clocks & pretty pink "Maja Design" papers.
Here is one using a 'fence' punch & a watering can die cut from Memory box. I hand cut a cloud, distressed it and added glitter glass~ The bk-ground paper is Prima.
http://www.craftygoodies.com/ - Connie Mercers blog.
I used a 3" X 3" square of paper.
**See the white one.
-Mark the center (1.5") along the top edge with a small dot.
-Draw a horizontal line thru the center of the square (1.5")
-Fold the 2 top corners in, at the center (dot); lining up the flaps with the horiz. line. (crease folds sharply)
-Then erase the pencil lines & dots.
-Use washi (or reg.) tape (see the brown bookmark) to hold the flaps together. I also used washi on the underside of the seam for strength.
-Round the bottom corners if you want.
-Embellish the front as you like~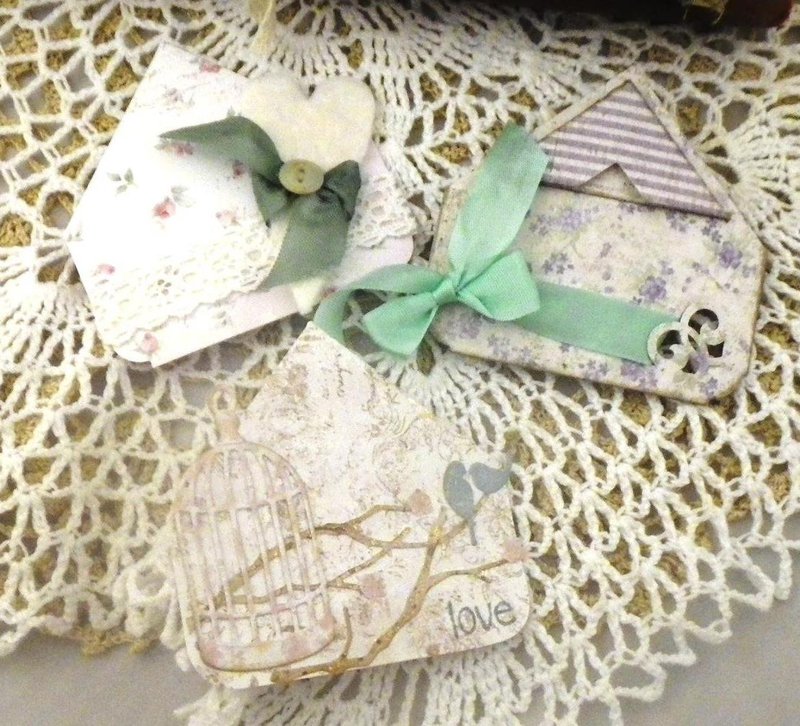 I wanted to personally say THANK YOU to
Stampington Publishers
and Somerset Life Magazine for the great privilege of being highlighted and published. What an honor for me; and especially at a time in my life where there was NO bright spot ANYWHERE to be found. To come home and see this - (standing in Barnes & Noble - in disbelief!) was like a warm fire on a bitter-cold day.
Friends, when you click on the link to their website, I am sure you will be overwhelmed with beauty! as I am, each and every time I visit. Their magazines are "commercial/advertising free" and are of
premium quality
- both in content and materials. I've never seen better magazines. And so many enticing choices for all of us who love to create; AND read about it : )
Please check them out~
Stampington.Com
Wishing New Year Blessings to each of you who happen to visit.
My hope is for a year of rebuilding . . . and lots of courage to face the future.
Hugs to you all,
Karen