A few eclectic Thank You's ~(and a *note to you)
Hello to you dear friends and visitors! I have been out of town for several days and was not able to peruse Blogland very well on my Kindle!! *sigh* So I hope to get caught up with you very soon.
**
I need to
let you know something
!! I will no longer have internet @ home after today : l
It was a difficult decision, but for several reasons, I am giving it up~
I will still be able to visit and post
; but only @ work during the week; on breaks or after work if I stay late. I will be 'slower' to visit and give my thanks to you! But please know I appreciate all of you so much - and will have to be inconvenienced for a while.
**
The weather here is fairly mild and very dry. Most of our snow is in the mountains. I just came from Ohio, where the weather was Much Colder! : ) Or, perhaps it just seemed that way because of the humidity~
I so appreciate your visit! And I hope for you a very blessed day~ Karen
Here are just a few different cards I made as "thank you's'. An eclectic mix! but so typical of me!!
I always seem to go in several different directions when paper crafting. I hope perhaps they will amuse or inspire you~
This little fairy girl is an un-mounted stamp from Lost Coast Stampers. Purchased at a local craft store in Loveland, CO called "Artsy's"
She could be as sweet or 'sassy' as you want!! If you know what I mean! : ) Just looking at her expression~ I used some Ranger Stickles glitter on her wings and hemline.
The punch along the side is Wildflowers by Martha Stewart. The paper is Kaisercraft.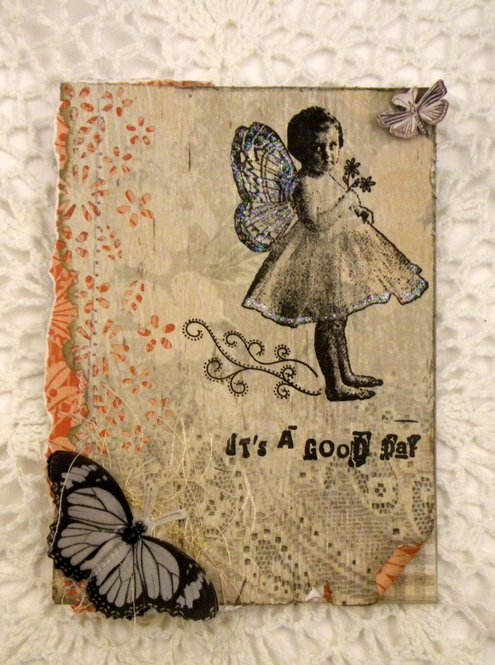 I really like the 'feminine/country' look of flowers and checks : ) It's cheery; don't you think?
The flowered papers are from Etsy
https://www.etsy.com/shop/iralamijashop
.
Below is a paper bag envelope and a tag card. The vintage tag /paper is a gift from
http://lululizinlalaland.blogspot.com/
! Thanks Liz, I am having fun! : )
The personal message is on the back of the tag.
The beautiful butterfly stamp is from Stempelglede in Norway.
I colored the envelope with simple colored pencils~
I guess that's all for now! Thanks for the visit and have a great week! Blessings, ~Karen