COVERED IN WHITE ... & Christmas cards too~
We are snow-covered and frosty here in Colorado, USA! Though we are known for our many days of sunshine (we usually have about 70% sunny days here) we have no shortage of snow here either!
And it is 'jump-starting' my Christmas motor : ) So, I thought I'd post some 'past' Christmas cards - - till I get to creating some "Current" Christmas gifts to share~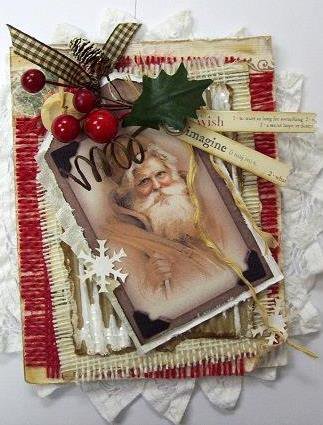 Red & white burlap and a 'pic' of berries from the craft store. Corrugated cardboard and some "Gesso" snow which I glittered with Stickles. The image from a dear friend~
Sledding at night!!!! I remember doing this as a child, Do you? Who knew how cold it was when you're having so much fun! I spent my early growing up years in Michigan, and the snow was our source of entertainment and wonder for many months~
Maja Designs paper http://majadesign.nu/
(from Sweden) and just a few simple embellishments. Again, corrugated cardboard & Gesso 'snow' ~
I am an avid Christmas Caroler! I love to sing the praises of our Saviors' birth~ The Choir card is a bit fuzzy, as I took the photo outside when the weather was bad! I used Pion Designs' paper
http://piondesign.se/
(also from Sweden) and a snowflake die cut from
http://memoryboxco.com/
The bell punch is Martha Stewart. The JOY card is paper from Pion, and I love to add bows to almost everything I make : ) so, here is a country checkered one added to the top. I like the large JOY stamp but I could have 'placed' it better I think! : j It says "Joy to the world, the Lord is come."
White corrugated board and white burlap are the foundation of this sledding card. I also added some machine sewing along the edges; and some distressing.
Here's a mostly neutral one that is one of my favorite cards~ I found a few white bells in Etsy! and used them sparingly~ I stamped all around the base of the card with Bo Bunny
http://bobunny.com/
Christmas stamps.
Frosty layers of Pion & Maja papers and that cute image of the girl with umbrella and basket of Christmas greens is Pion Designs. I added some zig-zag sewing
If you are interested in a tutorial for the Christmas Tag card on the right, please stop in @ (click>)
my friend Beatiz Jennings blog, where you'll find the video for Christmas tags.
Thank you so much for stopping in today! Enjoy your week ahead and I hope it will include some crafting too. Many many thanks to you for taking time to peek in~ Blessings to you all, Karen